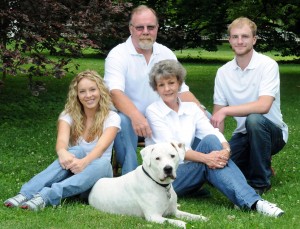 Riggeal's began in 1990 when Greg purchased G & K Fiberglass and began designing and building lightweight, one piece funny car bodies for the drag racing industry.  Today, Riggeal's has expanded their operation to include dragster bodies, jr. dragster bodies, components for the racing industry, agricultural equipment components, as well as a number of custom products.
The process and experience of building high quality, lightweight composites that will hold up under the extremes of funny car racing is used in building all the components we manufacture today.  Greg's experience in working as a crew member for a race team for several seasons has given him considerable insight and understanding of how the bodies perform during a race and where and how to add strength and aerodynamics without unnecessary weight.
Because of their diversity in production, Riggeal's can manufacture parts and components for many applications and can produce one, a few of a kind, or a large quantity of parts.  All prototyping and production is done in-house, using the latest technology and good, old-fashioned know how.
Riggeal's has earned a solid reputation in the racing industry not only for the quality of our products, but for our integrity and honesty in every aspect of our business. The chassis shops Riggeal's builds for have exclusive rights to their products and molds and can only be sold through them.
Riggeal's 1741 Goldenville Rd Gettysburg Pa 17325