To order or for more information call or email us!
717 677 4167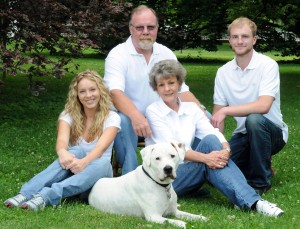 The Riggeal family with their dog, Casper!!
Riggeal's is a family owned and operated business.  Greg, his wife Deb, and their children Lauren and Nate are all actively involved in production, design, prototyping, and every aspect of the business. If you call or stop in, you will find all of us there every day!!  We hope to hear from you soon!
If you are a chassis builder or just starting out give us a call about dealer info and pricing. Most of our chassis shops have started out buying just one piece at a time and several are now our biggest customers! We look forward to working with you! 717 677 4167
We appreciate all photos and comments! If you have pictures of our products email them to us and we would be more than glad to put them on the website! griggeal@yahoo.com
Check out our Facebook Page and add photos and comments there too!